Gym and swimming hall
Veteli's sport centre is situated close by to the Hotel Kampeli. Here you can find versatile gym and swimming facilities. Gym cards can be purchased from the hotel reception.
Prices:
5 € / session
25 € / 5 sessions
Opening times for the sports centre and additional information can be found from: http://www.vetelinliikuntakeskus.fi/
Bicycle rentals
Bikes can be rented from the Hotel Kampeli. Ask for information from reception.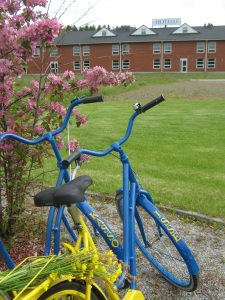 Hair and beauty services
Hotelli Kampelin tiloissa on  aloittanut kesäkuun alussa parturi-kampaamo- ja kosmetologipalveluja tuottava yritys KauniS ja Komia.
Aukioloajat ja muita lisätietoja löydät osoitteesta: http://www.kaunisjakomia.fi or from https://www.facebook.com/KauniSjaKomia/
Massage services
It is possible to have a massage in the Hotel Kampeli grounds. Massages are offered by physiotherapist and sports masseuse, Mari Järvelä. Massage days at the hotel are Wednesday and Friday.
More information can be found from: https://www.kunnontsemppari.com/ or from https://www.facebook.com/kunnontsemppari/
Skiing and jogging tracks
The ski and jogging tracks are easily accessible from the hotel by foot. A map of illuminated skiing and jogging routes can be found from the link below.