Welcome to the Hotel Kampeli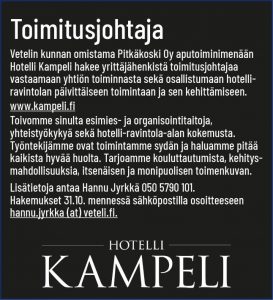 Important information!
Dear customers!
The health of our customers and our staff are important to us. We take care to disinfect surfaces including regularly disinfecting door handles.
For disinfection purposes we use Scanders Ten Days products, which are affective in killing viruses (Covid 19) and bacteria, leaving 10 days of antimicrobial protection behind on the surfaces.
We expect our customers to ensure they wash their hands correctly and request that you do not come to our restaurant if you have the flu or any flu like symptoms.
Kampeli's plan to prevent corona can be found from the links below. (in Finnish)
Lunches are served weekdays from 11:00 - 14:00
Ma – Ti 9:00-20:00 (keittiö 11:00-19:30)
Ke – Pe 9:00-22:00 (keittiö 11:00-21:00)
La 14:00-22:00 (keittiö 14:00-21:00)
Sun Closed
Takeaways can be ordered by calling 040 648 4040
TakeAway -10%
Hotel
Hotel Kampeli is situated in Veteli, along the highway 13 road in Central Ostrobothnia, amidst beautiful river and arable landscapes.
Tarjoamme hotellimajoitusta 22 huoneessa ja ryhmämajoitusta retkeilymajoitustilassa.  Hotellissamme on myös saunaosasto ja ruokaravintola.
Restaurant and lunch
Lounas on tarjolla arkisin klo 11:00–14:00 ja herkulliset à la carte -ruokalistamme annokset ovat saatavilla arkisin klo 11:00 alkaen ja viikonloppuisin aukioloaikojen puitteessa.
Our lunches includes a home-cooked lunch, a hearty salad bar, homemade beer, water, juice, breads, spreads, coffee and dessert.
For table reservations call : 040 648 4040

Good outdoor and indoor activities in Veteli
Next to the hotel can be found a sports centre with swimming hall and a great terrain for outdoor activities.
Kemora motor circuit is located 10 km from the hotel.
Opening hours
Ma-Ti 9:00-20:00
Ke-Pe 9:00-22:00
Sat 14:00-22:00
Sun Closed
A very warm welcome!